Chip Vending Machines In Washington DC, Maryland, and Northern Virginia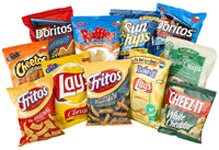 Our warehouse is stocked with a wide assortment of chips, pretzels and similar snacks from Frito-Lay, Utz, Snyder's, Herrs', and other top chip producers. We do switch some of the products from time to time to provide variety to our clients but we stock the majority of the following brands at all times in several different flavors and varieties:
Doritos
Cheetos
Rold Gold Pretzels
Utz Honey BBQ Chips
Fritos Regular
Fritos BBQ
Cheez-It
Ruffles
Utz Regular Potato Chips
Sweet Potato Chips
Cool Ranch Doritos
POP Chips
Smart Food
Rice Works Salsa Chips
Chex Snack Mix
SunChips
Pirate's Booty
Lays Regular Potato Chips
Lays Regular BBQ Chips
Lays Regular Sour Cream & Onion Chips
Munchos
Baked Lays
Snyder's Pretzels
Utz Cheese Curls
Keystone Party Mix
Friday's Potato Skin Chips
Burger King Onion Rings
Herr's BBQ Rib Chips
Utz Popcorn
Funyuns
Note: the above list is not a complete list of all products stocked in this category. Additionally, a few of the products listed above may not be available at all times as we do regularly change some products to provide variety to our customers.