Healthy Vending Samples in Washington DC, Maryland, and Northern Virginia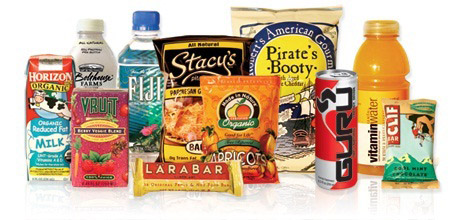 Monumental Vending is constantly looking for the best mix of healthy vending products to provide to our customers, so our product mix changes from time to time as exciting new products are introduced. We also try to balance the various needs of different customers while changing our mix up a little to provide variety. And, each location will have unique demands.
Below is a list of some of the healthy snacks and drinks that we are currently stocking in our vending machines.
Healthy Chips
POPchips Regular
POPchips Jalapeno
Rice Works Salsa Fresh
Food Should Taste Good Sweet Potato Chips
Snyder's Naturals Garden Veggie Chip
Wheat Thins Toasted Chips
Baked Lays
Baked Doritos
Snyder's Honey & Onion Pretzels
Snyder's Old Tyme Pretzels
Utz Popcorn
Pirate's Booty
Food Should Taste Good Blue Corn Chips
Utz Special Pretzels
Chex Party Mix
Healthy Snacks
Yoga Vive Apple Chips
Clif Bars
Raw Almonds
Mrs. Mays Cashew Crunch
Odwalla Bars
Skinny Cow Heavenly Crisp
Skinny Cow Clusters
Jack Link's Tender Cuts
Snackwell's Cookies
Karr's Cranberry Almond Delight
Planters Trail Mix
Lorna Doone
Planter's Peanuts
Fig Newtons
Healthy Beverages
Minute Maid fruit juices-several varieties
Veryfine Orange Juice
Welch's Apple Cranberry Juice
V-8
V-8 Fusion
Gatorade-several varieties
Powerade-several varieties
Sobe LifeWater
Vitamin Water-several varieties
Lipton Iced Tea-several varieties
Honest Tea-several varieties
Nestea Lemon
Aquafina Flavor Splash-several varieties
Poland Spring Flavored Water-several varieties
Dasani
Aquafina
Note: the above list is not a complete list of all products stocked in this category. Additionally, a few of the products listed above may not be available at all times as we do regularly change some products to provide variety to our customers.
Read more: Washington, DC Natural, Healthy Vending | Maryland Natural, Healthy Vending | Virginia Natural, Healthy Vending