Vending Machine Installation in Washington DC, Maryland, and Northern Virginia
With almost 3,000 vending machines throughout the Baltimore and Washington, DC metropolitan areas, we've become experts in installing vending machines.
Locations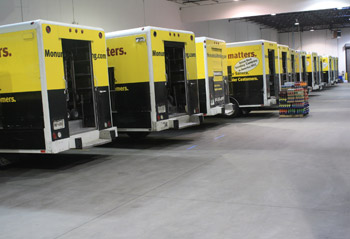 The first step in the vending machine installation process is to determine how many snack and beverage machines are needed and what sizes fit best for the space and demand. We measure not just the space where the vending machines will be installed, but all along the installation route as well. Hallways and doors and loading docks can all present challenges to our move crew.
Product Mix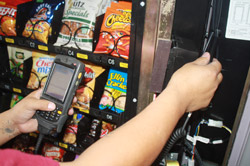 After fully understanding the type of consumers that will use a particular vending machine and taking into account any specific requests, we put together a plan for the beverage vending machines and snack vending machines to maximize customer satisfaction in terms of variety and product demands. We also monitor sales to make adjustments where needed.
Prepping Machines
All vending machines are thoroughly inspected and prepped before they leave our warehouse for installation. We carefully set up the spirals and prices in our snack machines and the spacers, labels, and pricing for the beverage machines. We also spend extra time to assure that the machine has the right change tubes, that all the labels are correct, that all the selections work well, and that the vending machine is clean and working inside and out from compressors to light bulbs.
Moving In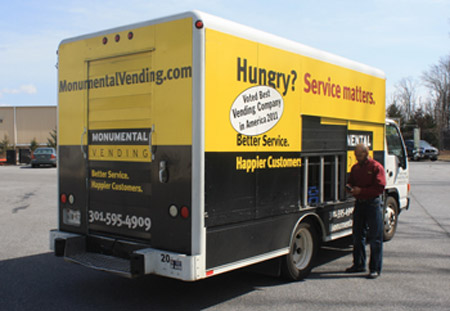 All of our equipment moves are scheduled in advance so that our clients know when to expect us for the installation of their vending machines. Our move crew has years of experience installing vending machines and they are dedicated only to the installation process – they know how to maneuver machines through tight spaces and set everything up correctly. Additionally, we bring floor coverings where needed and pride ourselves in leaving no trace behind-except for the newly installed vending machines.
Partnering for Success
At Monumental Vending, we view our working relationship with our clients as a partnership where we both work together to serve the customer.
Monumental Vending's Role
Provide our clients with vending machines
Keep vending machines clean
Assure vending machines are filled
Keep machine down-time to a minimum
Provide optimal mix of products
Provide accurate reporting
Follow client guidelines
Efficiently refund any lost money
The Client's Role
Provide a common area with an electrical outlet for machines
Allow Monumental Vending time and facility access, including badges if needed, to efficiently install and service machines
Provide feedback re: service and products
Refunds

Although our equipment is newer and our guaranteed delivery system "Sure Vend" ensures that malfunctions are minimized, mishaps can occur. Therefore, Monumental Vending offers several ways for the consumer to receive a refund. First, we can establish a refund bank in a convenient location such as a front desk or reception area. This allows the consumer to receive an instant refund. This bank is replenished through our Customer Service Manager on a regular basis (if it gets depleted).
Every vending machine displays a sticker with our phone number and we are happy to mail refunds back to the customer. All calls we receive for either a broken machine or refunds are logged into our computer system, and must be resolved to the satisfaction of our customer before it can be closed in our system.