Vending Careers
At Monumental Vending, we know that one of our greatest assets is our workforce. We set very high standards and our 50+ employees continually exceed those standards. Their dedication to vending service is what has helped make Monumental Vending an industry leader for more than 21 years. It is the direct result of the efforts by the employees here that Monumental Vending was selected as the best vending company in the nation when we won the Vending Operator of the Year for 2011.
Core Principles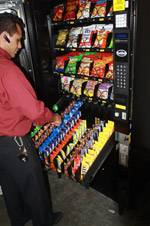 We have four Core Principles at Monumental Vending that we don't just put on the wall-but principles that we use to hire, train, and review all our employees. We know that if we hold ourselves accountable to these core principles, we will be able to run a world-class vending operation.
Strong Work Ethic
Attention to Detail
Courteousness
Dependability
Hiring The Best
We know that great employees will provide great service to our vending customers each and every day. This relentless focus has helped us grow every single year since 1991. It starts by setting high standards for individuals who join our team. We rigorously recruit, interview, and hire only those individuals with a history of high performance and the values we are looking for. Every employee who is hired goes through a rigorous set of behavioral event interviews.
Continual Training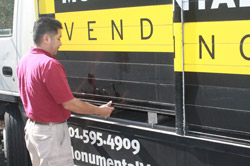 Training begins with getting employees off to the right start .We ensure this right start by investing weeks of training time to assure that every employee does their job "the Monumental Vending Way." It costs extra to train a new employee for weeks or months but we know that our efforts pay off in the end. However, initial training isn't where we stop. We're constantly training and coaching even our most seasoned veterans.
Retention
Once we find and train great employees, we want to keep them to ensure we're providing great service to our vending customers. We keep great employees by providing: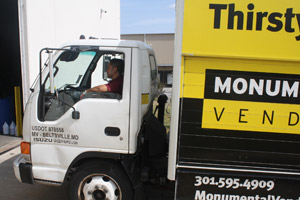 a great work environment where employees are treated with respect
competitive pay
the right tools to allow employees to succeed
the financial incentives that reward high performance
health insurance
401k plans
profit sharing for all employees
We even took the entire company to Club Med to celebrate 20 years in business. As a result, Monumental Vending has one of the lowest turnover rates, not just in vending, but of any company.

As a result, almost 70% of our employees have been with us 4 years or more and more than a third joined the company over 10 years ago!
Our extremely high client retention and our very low turnover both attest to the strength of our employees. Our workforce has well over 300 years of combined vending experience. We have made a commitment to our employees and that commitment has been rewarded with the most dedicated and customer-focused workforce in the industry.