Vending Professionals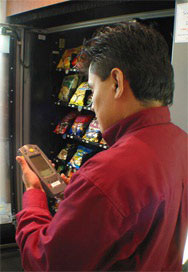 Monumental Vending has an experienced local leadership team of vending professionals with significant vending experience. Our leadership team has well over 150 years of vending industry experience and over 100 combined years of experience successfully running Monumental Vending and helping it become the largest, private vending company in the region.
Besides successfully running the best vending company in America, this group brings experience from Coca-Cola, PepsiCo, Frito Lay as well as other vending industry leaders. Additionally, we've hired a management team with years of operations and leadership experience to bring fresh new ideas and perspectives into the company.
Besides the awards and recognitions that we've won, we're proud that Monumental Vending is a locally-owned company, not some faceless corporation lead from another part of the country beholden to shareholders. Everyone, from the owners on down, are active in providing sales and service to our customers and we offer a profit-sharing program that helps ensure that everyone has a stake in protecting our reputation for continually setting and re-setting the gold standard for vending services.